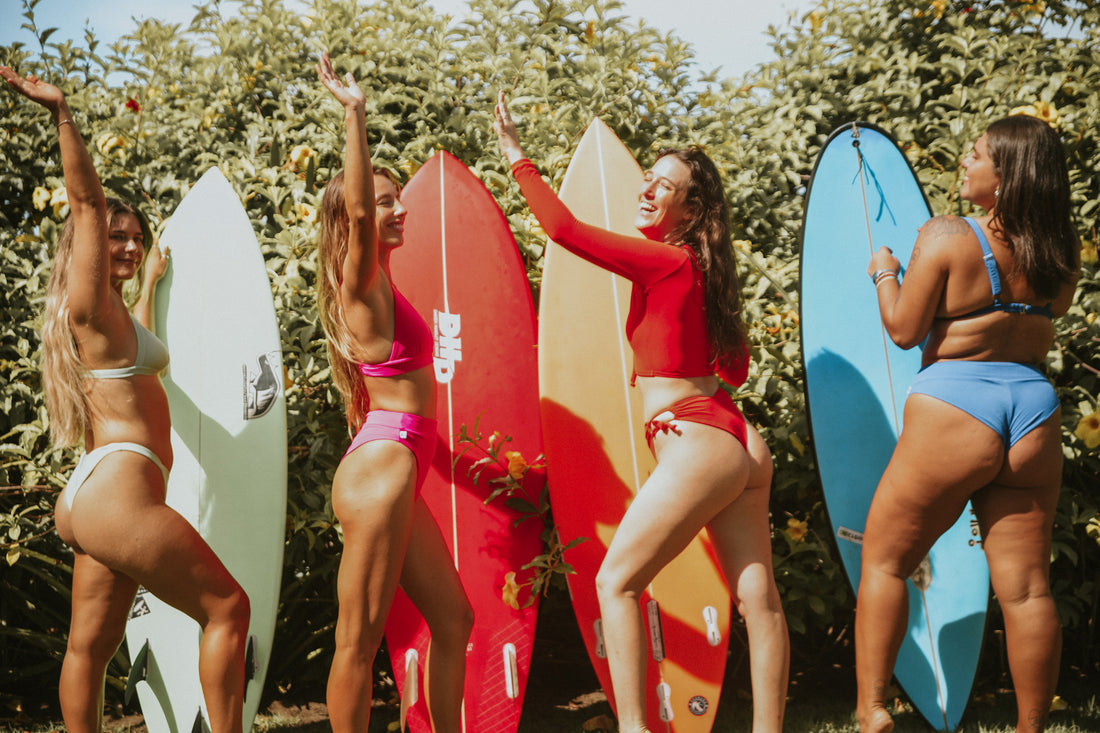 Eco-Friendly Swimwear: NEW Caribbean Breezes Collection
We are thrilled to bring in a new age of eco-friendly swimwear at Marveca Beachwear. We recognize the importance of maintaining our clean waters and gorgeous beaches, which is why we are excited to present our newest collection, "Caribbean Breezes." This collection not only embodies the Caribbean flair, but it also displays our commitment to sustainability. Let's take a deeper look at how this line is raising the bar in terms of design, comfort, and environmental stewardship.





The Essence of Caribbean Breezes'  Eco-Friendly Swimwear

Our Caribbean Breezes collection is inspired by the Caribbean's vivid and vivacious atmosphere. It embodies the region's natural beauty, cultural richness, and the cooling sensation of a mild sea wind. Each piece in this collection is intended to capture the essence of Caribbean beach life while also making you feel at ease and confident.




Eco-Friendly Swimwear: A New Wave of Socially Responsible Fashion

Marveca Beachwear is delighted to provide this selection of eco-friendly swimwear as a brand committed to sustainability. We understand the need for change in the fashion sector and are taking aggressive measures to reduce our environmental impact. Here's how we're going about it:


1. Eco-friendly swimwear materials

Our Caribbean Breezes collection includes swimsuits made of high-quality, environmentally friendly materials. We employ eco-friendly fabrics manufactured from recycled materials like abandoned plastic bottles and regenerated fishing nets from our oceans. These materials not only reduce trash, but also aid in the preservation of marine habitats.

2. Manufacturing with Integrity

We are devoted to environmentally responsible production procedures that highlight ethical labor standards while reducing water and energy use. Our manufacturing facilities follow high environmental regulations, ensuring that our eco-friendly swimwear is made with consideration for both people and the environment.



3. Longevity and durability

Our swimwear is built to last, decreasing the need for replacements. By selecting Marveca Beachwear, you are investing in long-lasting fashion that will stand the test of time, lowering your overall environmental impact.

4. Classic Design

The Caribbean Breezes line features timeless designs that are not limited by season. This means you'll be able to enjoy your eco-friendly swimwear for years to come, reducing the need to throw out items after only one season.

Why Should You Choose Caribbean Breezes?
Sustainable Fashion: By purchasing items from our Caribbean Breezes collection, you are actively contributing to a more environmentally friendly fashion business.


Our swimwear is intended for optimum comfort and style, ensuring that you look and feel your best on every beach experience.


Make a statement by wearing eco-friendly swimwear that reflects your ideals and commitment to a cleaner planet.


Marveca Beachwear believes in ethical labor practices and promotes fair working conditions across our supply chain.


Join Us on Our Adventure
We encourage you to look through our Caribbean Breezes collection and join us in our quest for more sustainable and eco-friendly swimwear. By adopting mindful fashion choices, you can contribute to the solution of protecting our beautiful oceans and beaches.

Marveca Beachwear believes that looking beautiful and doing well can coexist. With our Caribbean Breezes line, you can dive into sustainable luxury and make a statement in style. We can make a difference on our planet by swimming together.

Check out our Caribbean Breezes collection today and join the eco-friendly swimsuit movement.