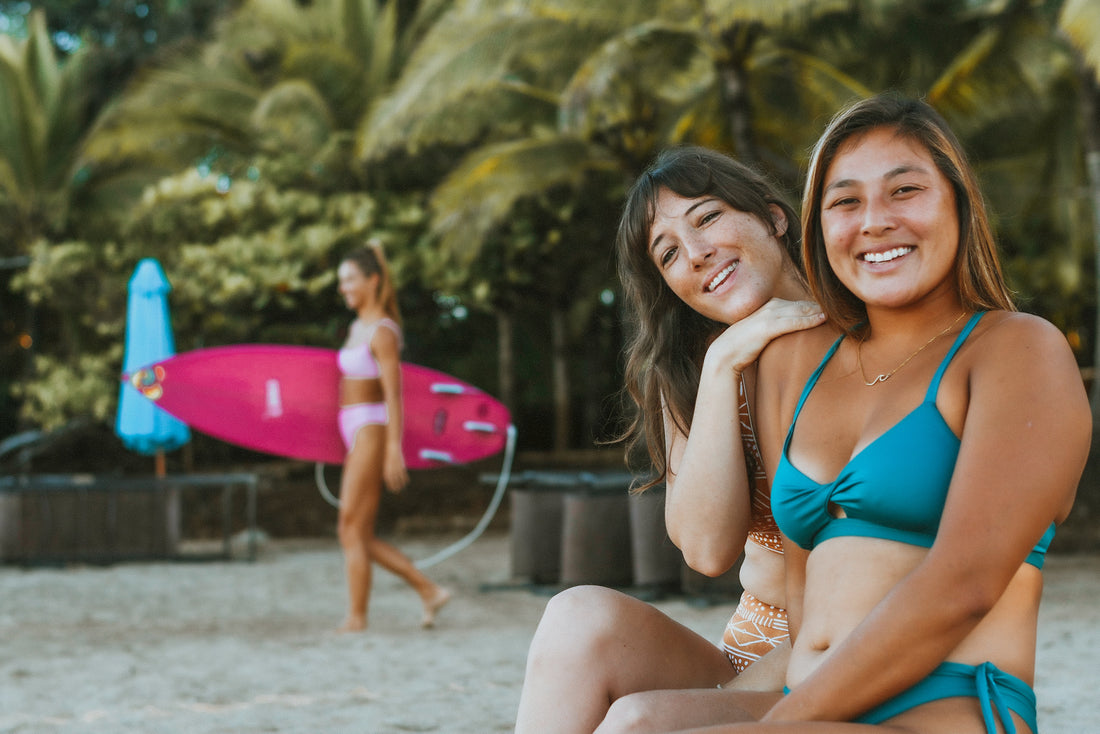 A Women's Surfwear Shopping Guide

Hello, sun-kissed beach babes and adventurous wave chasers! Are you ready to ride the waves with confidence, style, and grace? Look no further, because we have the ultimate women's surfwear guide that will have you looking like a surfing goddess in no time!


Quality Is Everything
Before we get into the latest trends and must-haves, let's talk about what distinguishes the best surfwear: quality. When you're out on the water, battling the ocean, you want your gear to be an ally, not an adversary. High-quality surfwear is about more than just looking good; it's about performing well and staying comfortable during your salty adventures.
Taking Advantage of Women's Surfwear Trends

Fashion and functionality can coexist, and Marveca surfwear has fully embraced this concept. The surfwear industry has caught the wave of style and is riding it like a pro, from bold and vibrant prints to elegant and understated designs. Whether you prefer a classic one-piece swimsuit or a trendy two-piece bikini, there's a look for you.



Sun protection is a must.
Remember to protect your skin while you're out there shredding the waves and soaking up the rays. Look for UPF (Ultraviolet Protection Factor) fabric, which protects you from harmful UV rays. This not only keeps your skin healthy, but it also ensures that your surfwear lasts longer, with vibrant colors and shapes.
Stay snug and secure with a secure fit.

Let's be honest, no one wants to deal with a wardrobe malfunction while surfing. A high-quality surf bikini should fit snugly and securely, allowing you to ride the waves with confidence and peace of mind. Adjustable straps, solid closures, and reinforced stitching are all indications of a surfwear brand that understands the value of staying put!

Say No to Itchy Seams

Nothing is more irritating than seams digging into your skin during a great surf session. The best women's surfwear brands consider this and use seamless construction where it counts. Bid farewell to chafing and discomfort and hello to smooth sailing on the waves!


Women's Surf Style that is Sustainable
It is our responsibility as ocean lovers to protect the very waters we enjoy. Choose eco-friendly surfwear made from recycled materials to embrace sustainability. Marveca prioritizes environmentally responsible practices by using ECONYL® regenerated nylon. We do this to ensure that your love for the ocean does not contribute to its pollution.
Versatility: From the sea to the shore

Who says surfwear is only for surfing? Choose pieces that can easily transition from the water to the beachside hangout to embrace the versatility of modern surf fashion. Choose surfwear that will take you from surf to shore without sacrificing style, whether it's a stylish rashguard or a flowy cover-up from our Beachwear collection.


Colors and prints allow you to express yourself.

Surfwear is an extension of your personality and style, so be bold with bright colors and eye-catching prints. Whether you prefer tropical prints or solid neon colors, your surfwear should reflect the fearless and fabulous woman that you are.

Invest in the Very Best Surf Bikini

When it comes to surfwear, consider it an investment in your surfing adventures. A well-made and high-quality surf outfit will not only serve you well now, but will also last through countless wave-riding adventures in the future. Don't be afraid to splurge on something that will make you feel like a surfing superstar every time you step into the water.

So there you have it, beach goddesses! A look at women's surfwear that combines fashion, function, and a love of the sea. Whether you're an experienced surfer or just starting out, the right surfwear can make all the difference.






Gear up, paddle out, and let your surfwear reflect your love of the waves. Catch that wave in style, and remember to ride with confidence, grace, and a heart full of ocean love! Have fun surfing! 🌊🏄‍♀️


Discover Marveca Women's Surfwear Collection Here